A course for health professionals who must meet mandated infection control training requirements for credentialing or renewal of a New York State license.
Training in Infection Control and Barrier Precautions for NY State Licensed Health Professionals

This computer-based training module has been created to enable New York State-licensed health professionals to fulfill their requirement for mandatory infection control training as specified in Chapter 786 of the Laws of New York. A certificate will be immediately available online following successful completion of all course material.
Note: This is a new curriculum that includes the required course material addressing Sepsis Awareness.
This course is approved by the New York State Department of Health and State Education Department and will meet licensure requirements for the following professions: Physicians, Registered Nurses, Licensed Practical Nurses, Dentists, Dental Hygienists, Podiatrists, Physician Assistants, Optometrists, Medical Students, Medical Residents, and Physician Assistant Students.
NOTE for Dentists and Dental Hygienists in New York State: You can also meet this training requirement with the online course on this site titled "Infection Control Principles and Practices for Dental Settings." This course is designed specifically for dental professionals and is more appropriate for dental professionals. CLICK HERE TO ACCESS THE DENTAL COURSE
The course work was authored by Regina Napolitano, RN, MA, CIC, an Infection Control Practitioner whose credentials include over ten years of hospital infection control experience at a large, municipal health facility; five years of experience as a consultant for federally-funded international programs; and five years as a college professor providing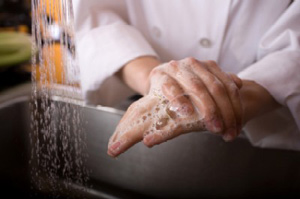 instruction in epidemiology and community health.
---
Target Audience
Physicians, Resident Physicians, Registered Nurses, Licensed Practical Nurses, Dentists, Dental Hygienists, Podiatrists, Physician Assistants, Optometrists, Medical Students, and Physician Assistant Students who require this training for licensure in the State of New York.
Health professionals specifically seeking training in infection control to meet CMS requirements in an Ambulatory Surgical Setting, please click here: AMBULATORY SURGERY TRAINING
---
Instructions For Completing This Course
If you wish to view the curriculum for this course, please CLICK HERE
To attain your certification, you must register for the course by clicking REGISTER FOR COURSE. As you read through the material on the course pages, you will be occasionally prompted to answer exam questions. There is a total of 27 multiple choice questions in this course. You must achieve a grade of 80% (22 correct answers) to receive a certificate.
When you have answered the last exam question, the Course Results page will display. This page will contain your final grade and allow you to immediately print your certificate if you have scored a minimum grade of 80%. Your certificate will also be available on your Student Control Panel where you may print it at any time.
Most registrants complete this course in one to two hours. However, course work does not need to be completed in one online session. You can log off at any point and return to the course at your convenience.
The Course Reference Page available at the completion of the course also contains many useful reference documents from notable sources pertinent to material covered in this course.
---
Registration Fee
The registration fee for this course is $49.00. A discounted registration fee is available to qualified registrants from institutions that have made an arrangement with CEO for special pricing. Registrants who are eligible for a discount must enter the Discount code in the appropriate box during the registration process in order to receive a discounted rate.
Your registration fee includes two opportunities to pass the examination. Certificates are valid for a period of four years from the date of completion.
Health professionals must attest to the training on license renewal and provide a copy of their certificate to the person(s) who maintain their credentialing documentation. Independent Physicians and Physician Assistants whose professional credentials are NOT maintained by any State-regulated facility (such as a hospital, ambulatory care center, or nursing home) must submit a copy of their certificate by mail to the New York State Department of Health, Healthcare Epidemiology and Infection Control Program, ESP-Corning Tower Room 523, Albany, NY 12237 OR by fax to 518-402-5165; OR by email to icp@health.state.ny.us
If you have any questions or concerns about this course, you may contact a Customer Service representative at 888-345-6788, or e-mail us at ceo.contact7@proceo.com.